Viewpoint of a old man aged 80
Text written by Catherine ASHMORE for the review « YOGA et SANTE » Published by the association « MEDECINE ET YOGA » Bulletin N° 19 - 1991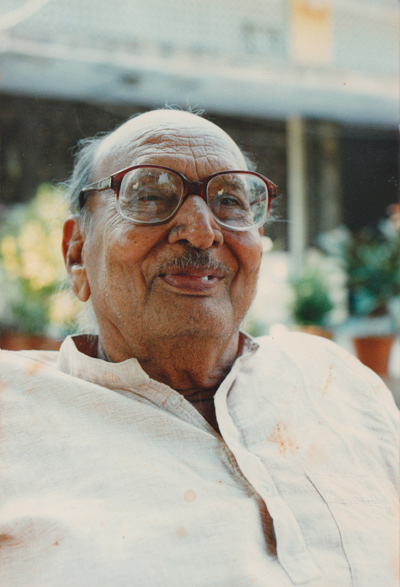 "Doctor SHANTARAM, writer, philosopher, enlightened doctor, has left India for the first time in his rich and long existence to discover France and the Western world. (…)
As a nature lover, he was filled with enthusiasm by our parks and the way in which they are looked after, as well as our countryside.
As an art lover, he was captivated by our artistic heritage, particularly our museums and our architecture.
The philosopher questioned himself on our haste. Towards what are we running? On the quantity of food, material goods, the intellectual knowledge we accumulate, to what end? On the way we use our time, on the place reserved for our emotional and spiritual life.
The Ayurvedic doctor treated people during his stay with the reliability due to his experience and his knowledge which transcends ages and cultures.
Here is the advice which he gives:
« Give a lot of importance to your diet, consume the quality and the quantity which are necessary to nourish body and soul, chose nourishing food adapted to constitutions and seasons, which should be entirely digested ; good digestion begins by having a good oral hygiene. To avoid constipation which « invites illnesses », you must develop the willpower to create the habit of passing a motion at the same time every day. He suggests practising the Yoga Asanas, which reduce tiredness and make life more agreeable. He suggests that you take the necessary rest.
To conserve youth, health and joy, develop certain attitudes which relieve suffering, tell the truth and remain faithful even if it is difficult, avoid anger, alcoholism, adultery, rudeness and impatience. He suggests that you place in a prominent position in the house to remind everyone, this Sanskrit verse « The man who knows how to nourish himself, to behave, who thinks before acting, who masters his senses, who gives to charity, unchanging in pleasure and in suffering, who follows the advice of wise men, this man will never fall prey to illness. He will carry out his life normally with good grace ».
SHANTARAM has returned to India. The presence of his infinite smile remains."
°°°°°°°°°°°°°°°°°°°°°°°°°°°°°°°°°°°°°°°°°°°°°°°°°°°°°°°°°°°°°°°°°°°°°°
SHANTARAM VAYDIA
SHANTARAM VAYDIA was born on 9th August 1911 in the State of Gujarat in the north-west of India. He descended from the clan of the great Rishi (wise man) Doctor BHARADWAJA.
He studied in a school which followed the educational principles of GANDHI. He learnt English, mathematics, science, Sanskrit, music (cithara, tablas) and drawing.
This school played an important role in the moulding of his character.
It was also during this period, at the age of 17, that he married his wife KANTA, who was aged 8 at the time. These traditional marriages sealed the promise of a union which took shape during adulthood. He had five children with KANTA and had a happy family life.
In 1930, during the « great salt march », GANDHI stopped off at his school. SHANTARAM asked him the following question: « Should I join your national movement now or when I finish my studies? » GANDHI replied: « You must do what seems to be most in harmony with your deep conscience. » He decided to finish the school year and to join the Movement. He was arrested a month later during a demonstration, with eighty other people. He was the youngest student to be imprisoned in Gujarat. His detention lasted four months, in very painful conditions. He was then extradited from English Gujarat, but returned to continue his fight and spread GANDHI's principles.
Because of this commitment, he was rejected by his father who cut off his means of subsistence. A movement of solidarity from his teachers and friends was created around him and enabled him to subsidize his studies of allopathic and ayurvedic medicine at the college in PATAN.
He stayed there for four years and met PUNAMCHAND, a friend who helped him in his medical training and in his personal life. It was also thanks to him that SHANTARAM met his master, SRI AUROBINDO, in 1933. This meeting was a revelation and changed his whole life.
SHANTARAM then started off on his medical career while going to the ashram in PONDICHERRY as often as possible.
In 1942, he devoted himself entirely to the final assault of GANDHI's national movement « QUIT INDIA » against the British domination, which resulted in the independence of India on 15th August 1947.
In 1956, his spiritual work with SRI AUROBINDO enabled him to acquire the profound knowledge necessary to practise AYURVEDA, the traditional medicine. He became a professor at the Faculty of Ayurvedic Medicine at SURAT, where he taught for eighteen years.
During this period, he wrote a weekly chronicle for the GUJURATI-DELHI on various subjects such as philosophy, the national movement, medicine and society.
His first book « The fundamental principles of Ayurveda » was published in 1968.
It was followed by a testimony of a famous doctor in Gujarat. His third book on the medical proverbs of Gujarat attracted a lot of attention. Several copies went to the National Library in WASHINGTON. In 1975, he wrote « An insight into the GITA », the great book of Indian philosophy, the BHAGAVAD GITA. Two works are in the process of being published, one on the pilgrimage sites in India and the other on ayurvedic dietetics.
In 1990, at the age of eighty, he left India for the first time in his life and discovered the West. He decided to translate several of his works in order to transmit the treasures of Indian wisdom to France.
He left his body in Ahmedabad, while staying with one of his daughters, at the age of ninety-five.