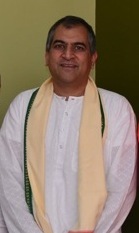 Sudhir was brought up at Kaivalyadham Yoga Institute, in Lonavala, India amidst rich traditional yogic heritage of Swami Madhavdasji Maharaj, Swami Kuvalyanandaji and Swami Digambarji, a tradition kept alive by his father and a well known Pranayama master, Shri O. P. Tiwari.
Swami Digambarji, on his own accord, without any announcements and fanfare initiated Sudhir in 1981 by conducting a Yadnopavit ceremony (Thread Ceremony) and accepted him as a disciple. Sudhir received his primary and advanced Yogic and Ayurvedic training from Swami Digambarji which included the study of traditional texts, mantra yoga, fire ceremony, pranayama and various aspects of adhyatm (spiritual) yoga. Sudhir also learnt pranayama and Hathapradipika from his father.
Sudhir's calling came in early 2012 when his father expressed his desire for him to become an instrument to further the message of Swami Kuvalyananda and Swami Digambarji's by spreading in theory and practice the fundamentals of undiluted yoga. Very willingly Sudhir agreed, so now he travels all around the world conducting workshops in theory and practice of Yoga (Asana, Pranayama, Meditation, Chanting) and Ayurveda and with his familiarity of alternative western medicine he also correlates these disciplines. His Mantra, Breathe Positive, Breathe Yoga.
Sudhir served the Health and Wellness Industry in the US, Canada and India at an executive level and received his advanced Teachers Training Certificate in Yoga from Kaivalyadhama Lonavala, India, Bachelors of Engineering from Bangalore University Bangalore, India and MBA form St. Josephs University, Philadelphia, USA.
Sudhir now lives in Toronto Canada, with his wife and two children.