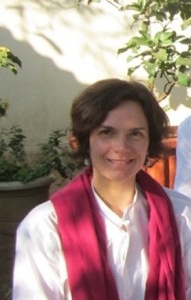 Sandrine has a Master's Degree in environmental studies and chemistry from University Paris XII in Créteil, Val de Marne. She was first a chemist then became an organic farmer.
Working on body and soul via bodily awakening, contemporary dancing and Taiji quan have guided Sandrine step by step over many years. The meaning and coherence of this inner development were revealed to her when she discovererd Yoga with Nathalie. Sandrine is thoroughly involved in this practice and Nathalie has asked her to become one of the Yogadhama Yoga's junior teachers.
She obtained her degree in teaching Yoga at the International College of the Kaivalyadhama Yoga Centre in India: "Certification Course for Yoga - CCY Course 2012."
She further develops her training with Nathalie teaching in the Cévennes and shares her joyful enthusiasm with the students there.